This month I was in my club repair workshop looking at my collection of old clubs that I have used over the years.  For those of you who know me know that I have a nostalgic connection with my putter collection and a few old clubs that I just can't bring myself to part with; one of the clubs being my old Callaway Warbird fairway wood.  This club was brand new in around 1996-97.  I also have a Callaway V-Series (brand new in 2015) fairway wood in my collection and they look similar with the V-Series being bigger.
These clubs are both 43" in length, the Warbird originally a shorter shaft due to the smaller head, but for this test I wanted to see the benefits of head technology without the shaft profile affecting the results, so I fitted a modern Project X LZ fairway shaft in the Warbird and made it the same length as the V-Series.
The longer the shaft the faster the club head speed can be, more speed can mean more distance when hitting the centre of the club face.  In the old days woods where shorter in length as the head technology didn't exist to allow the heads to be larger.  Modern clubs are longer because the club heads are larger and allow forgiving for off centre hits still making the fairway.
Here are the two clubs, very similar just different size with the smaller head being heavier.

Warbird 4+ Fairway
Loft = 16
Length = 43"
Shaft = Project X LZ
Flex = Stiff (6.0)
V-Series 3 Fairway
Loft = 15.5
Length = 43"
Shaft = Accra FX300
Flex = Stiff
When hitting these clubs, the 20-year-old Callaway Warbird fairway felt much heavier and harder to hit, I felt I was swinging well and just felt that if I missed the middle of the face by just a fraction then the direction and distance where dramatically affected.   You can see from the size of the heads that the larger modern clubhead is designed to be light and with the larger face the sweet spot is much larger, I felt this straight away, it was easier to hit, and the off-centre hits still travelled straighter and a decent distance.   I certainly enjoyed hitting the more modern club more!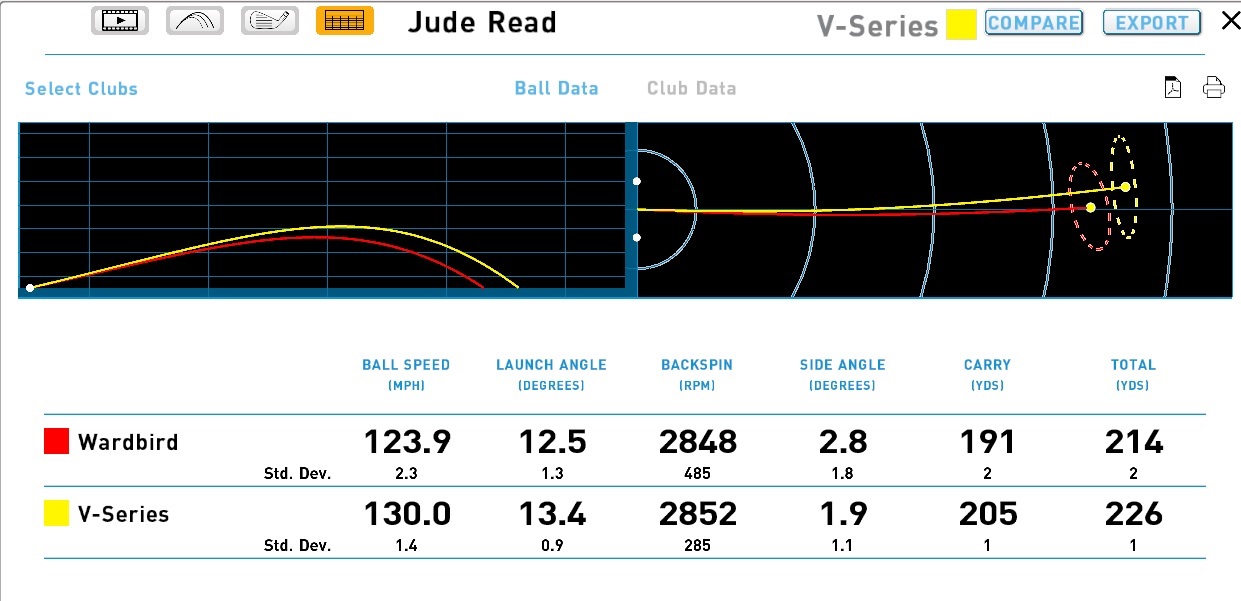 To improve this test I could have used the same shaft in both clubs, but as you see these are not quick-change shafts so that's why I decided to put a similar modern-day shaft in the Warbird as I didn't have two shafts the same.  The point I am trying to make is that if you are still using old tech with smaller heads then you are making this game more difficult and could be missing out on lower scores as a result.  You could be missing out on club head speed and forgiveness from off center hits.
I have focused on the design and technology in the club head, a major part of the fitting process is to choose the correct shaft as this really does have an affect on the flight and distance the ball travels.  If these clubs had interchangeable shafts I could have shown you more data on distance.  Most modern club heads use face technology to help get faster ball speeds, this combined with selecting the correct shaft really can add yards to your shots.  There are thousands of shafts available to try and the only way to get the correct combination is head and shaft is to use a launch monitor and hit balls.  This is why you should go to a specialist fitting center like Manston Advanced Custom Fitting Centre, we have qualified club fitters who have the selection of shafts and head and use launch monitors so you can get accurate ball and club data after every shot.  
If you are one of the golfers who still say "I just can't bring myself to hit a club with a head that large",  you are making the game more difficult and you could very easily be shooting lower scores!
Before you look at purchasing a custom fitted set of clubs, woods or irons, please don't just think that going to a major store that has loads of stock lined up on shelves will mean you will get the lowest price.  Please do not purchase custom fitted or any type of golf club online, you need to try before you buy! 
Consider a specialist fitter like myself at Manston Advanced Custom Fitting Centre, we do not charge for fitting if you purchase from us.  We also price match the major golf retailers, we order everything bespoke for each customer, you can be confident that you will get a correct fitting at the same price [or lower]  as the major retailers with a first-class experience.
Jude Read
PGA Professional
Manston Golf Centre
jude@teachgolf.co.uk