Jude Read – Professional Golf Services
Coaching – Golf Club Repairs – Golf Events
T: 07788 580422                                E: jude@jrgolfclubrepairs.co.uk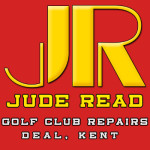 With over 20 years experience of repairing golf clubs, JR Golf Club Repairs are able to complete any club repair. We use the latest digital equipment and machinery to complete repairs to the highest standard.
We aim to complete all club repairs within 24 hours from when we accept the club.  We are able to collect and deliver back repairs that are near the location of the workshop in Deal.
If you are outside the local pickup and delivery area, we have a drop of point at The Kent Golf Academy in Ashford.  To find out whether we can collect your repair please click here.   Jude will try to reply within a few hours.
Alternatively you can call Jude on 07788 580422 to discuss your repair.